Request for expressions of interest-Recruitment of PPP expert advisor (in-house) for PPPC
a year ago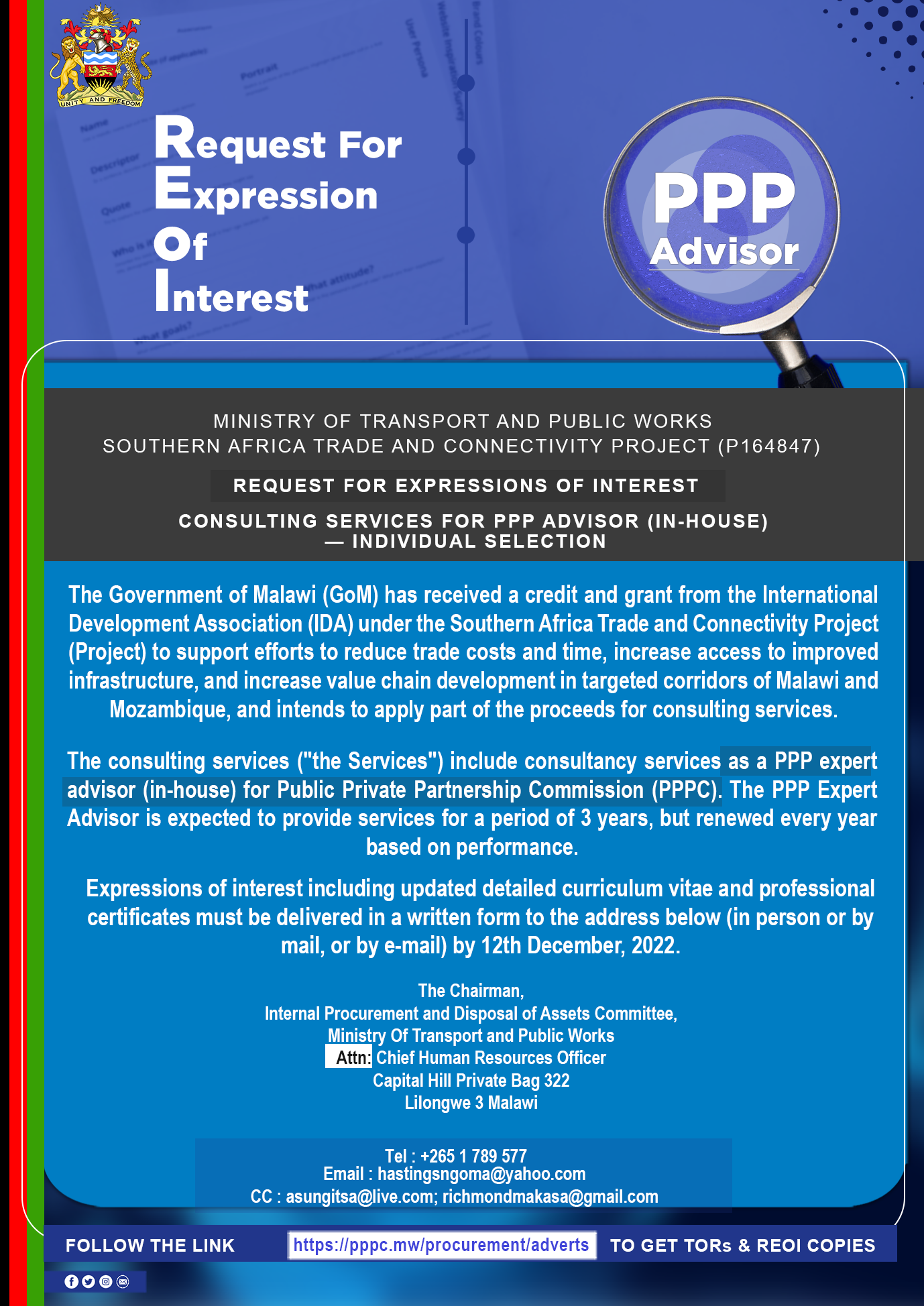 reoi
The Government of Malawi (GoM) has received a credit and grant from the International Development Association (IDA) under the Southern Africa Trade and Connectivity Project (Project) to support efforts to reduce trade costs and time, increase access to improved infrastructure, and increase value chain development in targeted corridors of Malawi and Mozambique, and intends to apply part of the proceeds for consulting services.
The consulting services ("the Services") include consultancy services as a PPP expert advisor (in-house) for Public Private Partnership Commission (PPPC).

Expressions of interest including updated detailed curriculum vitae (CVs) and copies of professional certificates must be delivered in a written form to the address below (in person, or by mail, or by fax, or by e-mail) by 12th December 2022 on or before 16:30 hours, local time.

The Chairman,
Internal Procurement and Disposal of Assets Committee,
Ministry Of Transport and Public Works
Attn: Chief Human Resources Officer
Capital Hill, Private Bag 322, Lilongwe 3, Malawi
Tel: +265 1 789 577
E-mail: hastingsngoma@yahoo.com; CC: asungitsa@live.com; richmondmakasa@gmail.com
Go to https://www.pppc.mw/procurement/reports-notices/request-for-expressions-of-interest-recruitment-of-ppp-expert-advisor-in-house-for-pppc for the full details.