Groundbreaking student accommodation
2 years ago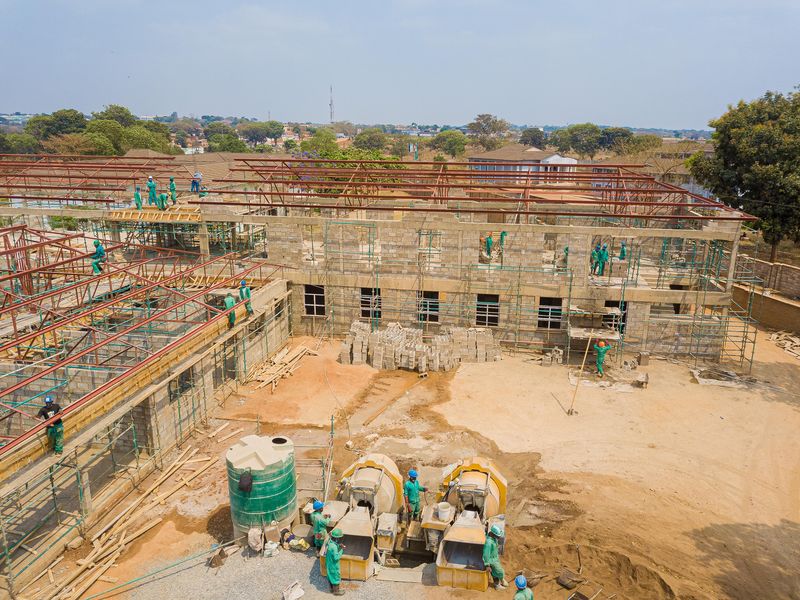 Students hostels under construction
The Government of Malawi in conjunction with the Public Private Partnership Commission launched the University Student Accomodation Project in Lilongwe on 19th August, 2020.
The event took place at College of Medicine Lilongwe Campus where Minister of Education, Science and Technology, Honourable Agness NyaLonje graced the event and officially launched the project.
In her remarks, Hounourable NyaLonje stressed the need for more collaborative efforts between the public and private sector in as far as providing accommodation and other needs in the education sector is concerned. She noted that university students who reside in private hostels face a lot of challenges therefore the need for more investors to construct hostels in the various colleges.
Giving a background of the project, Acting Chief Executive Officer of the PPPC, Mrs Audrey Mwala said in 2016, the Commission advertised for investors to construct hostels in public universities. Investors were identified through a competitive procurement process.
Old Mutual, which signed agreements to provide hostels at COM Lilongwe and Blantyre Campuses, and LUANAR Bunda Campus, has started construction works at COM Lilongwe Campus.
Speaking on the sidelines of the event, Group Chief Executive Officer for Old Mutual, Mrs Edith Jiya said the construction works that have started at Lilongwe Campus will be completed by the end of 2021. She also said construction at COM Blantyre Campus will begin by the end of 2020 whereas at LUANAR, the construction will start early 2021.
In reaction to the development , Principal for College of Medicine, Dr Mwapasa Mipando said they are delighted as currently the college only manages to accommodate about 775 students out of 1550 registered students.